BLUE CIRCLE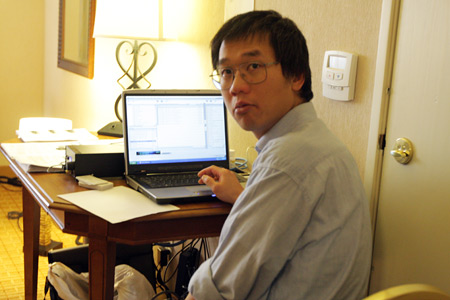 Gilbert Yeung of Blue Circle                                    (Copyright Soundstage, Inc.)
It is with great personal regret that I have to announce that Blue Circle Audio, an essential and original piece of the audio world since 1988, has closed. As many of you have doubtless noticed, Blue Circle's equipment line has narrowed over the last few years as Gilbert's interest has focused on projects and gear that interests him personally. In other words, as his fascination with what can be done has grown, Blue Circle as a business has become a more modest enterprise. He has now come to the conclusion that while there is still more that he wants to do personally as a designer, in particular building on the what he has learned from the development of the NSI amplifiers, Blue Circle has a business is no longer at the center of his life. So he has decided that the proper thing to do is let the business enter history. As of January 1, 2019, Blue Circle Audio, Inc is officially closed. As I say, while this news may seem precipitous to some of you, it is the logical development of where Gilbert has been, where he is today, and where he expects to go in the future.
What effect this development will have on Amherst Audio, besides creating a significant hole at its center, remains to be determined. For now, my line has shrunk by one extraordinary line of equipment. Amherst Audio began with Blue Circle and I have never found any other line of gear that can do what it does. It does not do everything, which is why I also sell Audio Note, which as most of us know, is a musical world unto itself. Stay tuned.
It is my fondest hope that somewhere down the road Gilbert will find a way to re-open Blue Circle as a new business focussed exclusively on custom audio design. It is clear to me that his designing brain is not going to retire, so there needs to be a way to make it available to some of us who find his way of thinking about audio and music such an inspired one.