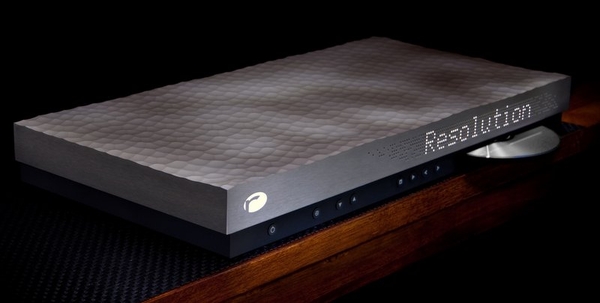 Resolution CD Player.
Resolution Audio Cantata Music Center
For those who have been smitten by the sound of Crimson electronics and cable, there is another prize at hand. The Resolution Audio Cantata one-box CD player (actually all purpose music center with USB, Ethernet, and Toslink/AES/Coaxial digital inputs built in) has all of the virtues of the Crimson gear, complementing it beautifully. Completing it, you could say.
Again, it may be somewhat of a shock for those used to a richer, fuller sound of a front end like the Audio Note transport coupled with either Blue Circle or Audio Note dacs. It may also sound a little light at first. But it will also likely sound captivating. That was the adjective I stuck on it first. When I thought 'light,' I turned up the volume a bit, listened for a while, and that concern disappeared. The air around instruments and voices is simply not thick: there is no humidity, none of the added harmonic enrichment many of us are accustomed to. It is almost as if Peter More and Brian Powell foresaw this player when they designed their Crimson electronics.
It is "captivating" partly because it has great speed and immediacy. It gives a system lips. Music leaps out of the speakers in all of its natural detail. Instruments in the back row are as clear as the soloists up front: not unrealistically projected forward, just clearly located. The Cantata does verisimilitude where Audio Note digital favors beauty and Blue Circle, physicality. Those who prize verisimilitude above all else will love the Cantata. Its bass impact and clarity are also very impressive.
The Cantata loves Crimson electronics. It also tends to clear the air somewhat when used with other gear, in my house Blue Circle and Audio Note. There is a change of audio climate. It takes the effects of adding Crimson cable to a Blue Circle system another step away from the latter's classic warmth and fullness toward greater immediacy and transparency. For some listeners this will require an adjustment to appreciate. You will have to decide, again, how much reality you want in your living room. 'Musicality' has many meanings.
There is no confusing a Cantata front end with an Audio Note or Blue Circle front end. Three different perspectives, which as I frequently say, will tell you more about who you are than what is true. $6500.
Resolution Audio Black Jack AC power cord
Most of us have wandered through the jungle of after-market power cords, learning at least something of the nature of the beast from the experience. Over the years I have been seduced by the lush, the rich 'n' romantic, the vividly transparent, the subtly seductive, and the testosterone enriched. What they all had in common was that, in addition to costing a lot of money, they changed the sound, which was, as you might expect, an unevenly mixed blessing. Anything that changes my system into something else wears out its welcome fast. And so, all of these cables eventually gave way to the plain and simple Volex cable at $5@, which unlike the competition does wonderfully nothing. Every cord I've had before the Volex cable changed the sound of my system, presumably to suit its designer's taste. After all of these, the ultra-modest Volex felt like delivery from The Beast.
So it was with great reluctance that I accepted the invitation of Resolution Audio's Steve Huntley to try out his own, hand-made Black Jack cord, designed expressly for the company's Cantata. I have no idea what this cord sounds like on other components from RA or anyone else and am reluctant to find out because if it does for them what it does for the already superb Cantata, I'll have to spend more money than I want to. What I hear from the Cantata with the Black Jack connected to it is mainly more full-blooded musical life and energy but without affectation. By which I mean that the Black Jack does not change the sound of the Cantata: it simply makes it a dramatically better version of what it already is. The cable adds greater body and increased energy to the Cantata's exemplary clarity and speed. The Cantata is still fine without the Black Jack, but I can't imagine now owning one without this pipeline to 'the heart of the matter.' It should probably come stock with the Cantata giving the unit an appropriately higher price. No Cantata owner should be without one.
By extension, I should also say that it has enhanced my opinions of all of my speakers connected to the Cantata, the Tocaro 40's in particular. They are fascinating speakers without it, terrific with it. They have become positively sexy.
Five foot Black Jack, $895. Seven footer, $1245.
http://www.resolutionaudio.com/?page_id=60